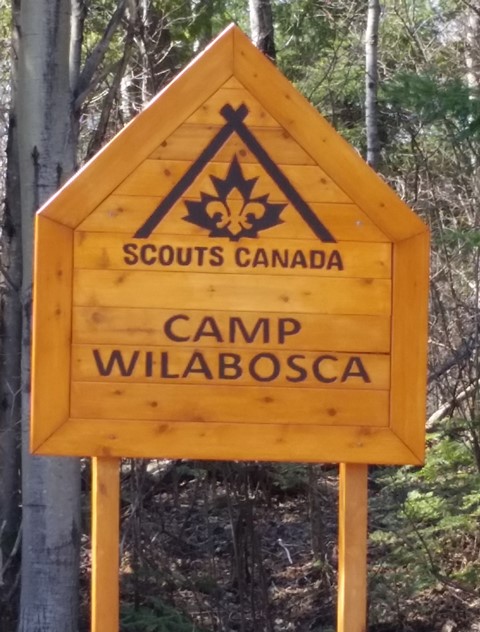 Camp Wilabosca is a year round camp on the shores of Windy Lake in the City of Greater Sudbury. The property is a well treed 18 acre site with 1820 feet of lake frontage including two sand beaches. It is not uncommon to see fox, rabbit, squirrel and partridge tracks in the winter.
Camp History:
The property was purchased by the Sudbury District Council of the Boy Scouts of Canada in 1942 from the Onaping Fish and Game Club for $500.00. The camp was officially opened in 1946. The name of the camp comes from Windy Lake Boy Scout Camp.
Property Details:
Approximately 80% of the site is treed with the remaining 20% field . There are four tenting camp sites in the treed area complete with fire pits.
Buildings & Locations:
Vern Field Lodge constructed in 1984 measures 35 ft by 60 ft and serves as a general purpose/dining room, a kitchen, washrooms and mechanical room. The lodge has a propane furnace, range and hot water tank. There is an electric fridge and freezer, coffee machine and toaster. The kitchen has cooking and eating utensils to serve 50. Water is supplied by electric water pump complete with heat traced water line for winter use. The water system is treated with a UV system and is tested quarterly by the Camp manager and also annually by the Sudbury District Health Unit. There are 5 electrically heated sleeping cabins that combined can sleep 52. The lodge and one cabin have barrier free access and facilities.
Age Groups:
The Camp is best suited for all sections (beavers, cubs, scouts, venturers and rovers)
Program Activities & Site Assets:
The Camp has seven canoes complete with paddles and safety kits. (supply your own PFDs) There are two safe sand beaches for swimming and a hiking trail to Windy Lake Provincial Park along the shore of Windy Lake. In winter, the area is perfect for snowshoeing, cross country skiing and ice fishing. Bring your own equipment. Local groups often make and sleep in Quinzhee Huts.
 Water:
Treated water is available in Vern Field Lodge year round.
Electrictiy:
All buildings have electricity, the sleeping cabins are electrically heated (turn on the heat when you arrive and turn it off when you leave). Vern Field Lodge is heated all winter to maintain the water system.
Waterfront:
Located on a point of land on Windy Lake.  There are two sandy, no demarcations, unsupervised beach areas.
 Campfires:
Two designated campfire areas, one in field and one on the point. Campsites have individual fire pits.
Washroom/Kybos:
Main lodge has flush toilet facilities including a barrier free washroom and there is one kybo located near the individual tenting sites.
Chapel:
There is an open air chapel located on the point with cairn and benches.
Phone/Cell Coverage:
Campers must have a cell phone, there is excellent coverage for all carriers at the camp
Municipal Address:
53 North Shore Road, Onaping ON
Emergency Contacts:
Camp Manager:  Earl Mumford 705 692 9520, 705 866 2578
Tom McGibbon 705 560 0118
Emergency 911 Coverage:
located within the  limits of the City of Greater Sudbury
 Directions:
Located 42 km from downtown Sudbury, off Highway 144, 1. 3 km north of the Levack turn off, turn left onto Elk's Club road, cross the tracks and turn left onto North Shore Road.  At sign bear right and then turn right at gated entrance.
Reservations/Booking Instructions:
go to www.campwilabosca.ca
Proudly Supported By: